Travel Agents: Useful or Not?
With a multitude of online portals guaranteeing the cheapest price, we couldn't help but wonder how the independent travel agency is able to compete. In a quest for answers, we hit the streets to book some flights of our own.
A lot of mom-n-pop shops have been swallowed up by the menacing mouths of big corporates. Franchise restaurants have replaced Rosie's Diner, chain hardware stores have thrown Bob's Lumber out of business, and massive travel websites have turned off the lights at Mike's Comfort Travel. Hold on a second... Those lights aren't off, a breaker just blew!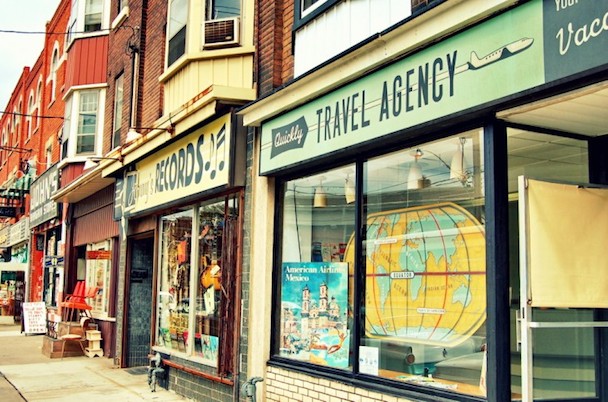 Throughout the changing landscape of all industries, one thing has remained amazingly untouched, the local travel agency. Sun-bleached Bermuda posters still adorn the walls, fax machines carry on purring their tinny tune, and atlases continue to be referenced during flight routing. Seemingly against all odds, these small businesses have remained intact.
Four big players dominate 75% of the US market (according to IbisWorld). A large chunk is made up of other travel giants, but an even smaller slice is shared amongst the thousands of traditional travel agencies.
Agent vs. Do-it-Yourself
Walking to work, I noticed two "Mike's Comfort Travel" types of agencies within a few short blocks. Upon seeing their dated storefronts, I was reminded of a couple of New York Times articles. The articles investigated the role that these types of traditional agencies play in opposition to the web-dominated booking engines that monopolize the travel space. The articles were both supportive of the local travel agent, and one of the articles even declared that in nearly every mock flight itinerary "travel agents bested the Internet big boys on both price and service".
For me, the existence of these travel agencies in Montreal's trendy Plateau neighbourhood, offered encouraging support to the NY Times' position. If these small businesses could survive recessions, overcome a complete industry overhaul by the internet, and still pay rent, they must be on to something.
My hamster wheel was spinning. What if I ran a similar test to the New York Times articles?
I could construct a trip that included a couple of destinations which could truly benefit from some human manipulation (or simply, some love and attention). Online algorithmic searches are great for simple, short flights, but multi-city trips is where they really fall short. Travel agents (or seasoned hackers) who can lend their creativity, knowledge and expertise to build an affordable and fun itinerary. I could then compare the price and experience when using a travel agent against the high-and-mighty internet!
I decided to go with a trip that is actually on my radar: A vist to Berlin and Reykjavik from Toronto in the first 2 weeks of February (dates being pretty flexible).
I had smugly decided in the words of Bob Barker, that if the price is right, I'd book the flights; thinking that this would lend some authenticity to my face-to-face interactions.
Hello, Anybody There?
Before hitting the streets in the hopes of meeting a real-life travel agent, I decided to test the water with a few calls to some local agents. Before dialling, my mind was racing. What will planning a trip be like sans mouse clicks, frustrating wizards and total impersonality?
I called 10 travel agents throughout Montreal and Toronto, and each time I was met with vague questions and unenthused voices. Regardless of this initial impression, all of the agents assured me they would either call back or send over a quote by the end of the day.
While waiting for an influx of phone calls and emails, I decided that it was time for my first face-to-face encounter.
Agents in Their Natural Habitat
A few humans later, I was both confused and underwhelmed with only a couple of superficial quotes. I had envisioned being met by these agents with open arms; or at least given a few travel pamphlets and stale mints. And by 6pm, I had received only one phone call and a single email occupied my inbox.
What I lacked in concrete itineraries, I made up for with my own questions. What had gone wrong? Could these agents sense my lack of commitment? Would things have been different if I were booking in Business or First? Would I have had better results if I were older; wanted to go to Asia; or asked for a cruise?
Most importantly, why had the agents who pinky-sweared they would call me back not follow-through? If they weren't interested in my trip, why didn't they just say so? This in itself is completely defiant of any decent level of customer service, and it was the norm!
From the few quotes I did receive, the total cost for my Toronto - Berlin - Reykjavik - Toronto trip ranged from CA$ 1,400 all the way up $3,000! Most of the itineraries were almost identical; flying on British Airways with connections via London or Copenhagen.
With these limited results, I decided that I needed to add another element into the equation. I opted to call a few larger travel agencies that also have an online presence, but are heavily focused on delivering live customer-friendly service. Maybe there wouldn't be any sombreros on the wall, or complimentary water coolers to drink from, but at least I could get a few more prices to add to the mix.
One Love, One High Price
My best encounter was through Flight Centre. I spoke to a charming agent called Luke based out of Kingston, Ontario. He was not only talkative and friendly, but he offered up hostel suggestions, asked me about my preferred airlines, and worked within my flexibility to save me $50. His total for my itinerary was $1,626 or $1,808 with travel insurance.
My conversation with Luke was over-flowing with "awesomes" and "cools" that inflated both my travel ego, and the bookability of my mock itinerary. His reassurance about just how "awesome and cool" my trip was, made me feel like yelling out my credit card and passport numbers from the rooftop. The one thing stoping me: the price.
Dare to Compare?
With a quick search online (Kayak generally gives a good benchmark figure), my DIY flight itinerary rang in at $1,251. This would mean a savings of $375 from Luke's price if I booked on my own. Sorry, but no one is $375 worth of charming.
Truthfully, Luke's flight itinerary was more direct than the cheapest Kayak fare, but it still did not include any direct flights. However, even the final leg of my DIY trip included a non-stop flight from Iceland back to Toronto.
Therefore, no bueno. Had the prices been somewhat comparable, my loyalty would have gone with the human and not the machine. Couldn't there be a happy medium?
Hey, Price. I'd like you to meet someone special, Service.
It was time to release the hounds, or in this case, hound. I asked one of our most seasoned Flightfox experts to take a look at my itinerary and work some magic. After briefly explaining my trip and flexibility with dates, she quickly came up with an itinerary.
Instead of flying into Berlin first, the itinerary would take me straight to Iceland, give me a few days there to explore, then onto Berlin. After a week in Berlin, I would return back to Reykjavik for a few more days, and then catch my return flight back to Toronto.
This is $545 cheaper than the best price I received from a travel agent ($1,400), and $396 cheaper than my DIY benchmark ($1,251).
| Who? | Best Price (CA$) | Difference to Flightfox |
| --- | --- | --- |
| DIY Online | $1,251 | $396 (+46%) |
| Local Travel Agent | $1,400 | $545 (+64%) |
| Corporate Travel Agent | $1,626 | $771 (+90%) |
How did she do it? She simply listened to me and leveraged my flexibility with her expertise. The itinerary doesn't involve any tricks or intensive hacking, someone finally just employed some creativity with routing and airlines. Oh, and did I mention all these flights are direct?
What Does it All Mean?
In short, the experience with travel agents as described in the NY Times articles, were not duplicated. Whether or not I had managed to hand-pick a collection of the most disinterested travel agents in North America, is debatable.
However, what can be determined is that these small traditional agencies are still very much alive. But I found that they're simply not interested in me, or my petty flights.
According to Kelly Monaghan, long-time travel expert and author of Home-Based Travel Agents, "booking airline tickets is one of a travel agent's most difficult jobs". He goes on to say things like, "airline tickets have a way of attracting con artists", and "airlines don't pay commissions". In his chapter on Booking Airlines, he actually uses the word "hassle" 10 times (not including synonyms).
The general gist: independent travel agents do not make enough money booking flights. A lot of money is exchanged, liabilities are high, and there can be an enormous level of support required by customers.
Agents have carved out a place for themselves in booking package vacations, cruises, and luxury and VIP getaways. These bookings generally serve a smaller, but loyal niche group of customers.
Perhaps my experience would have been different if I set out to book a cruise or an all-inclusive vacation. However, accommodation, insurance, and tours can also be quite lucrative, and could have easily been built onto my flight itinerary. Of all of the phone calls and walk-ins, Luke was the only agent that even attempted to build upon my trip.
The movement away from meeting with an agent to book travel, towards strictly using online tools and search engines, is morphing again. Perhaps the answer to confidently booking travel lies in a hybrid system; a system that requires "man" to properly and creatively guide the "machine". Have you used a travel agent to book a trip?
Flightfox is a new breed of corporate travel manager. We combine technology with human expertise to help your team travel better than ever for less.
Get Started!