How to Access Airport Lounges with an Economy Ticket
They ooze exclusivity and warm muffins. They are also a revolving door for the travel elite and road warriors - the "cool kids" of the air. But how can the everyday traveler gain access into these coveted airport territories? Let's play Robin Hood and spread a wealth of knowledge to the masses!
Best Lounges in the World
Airline lounges exist as the pinnacle of luxury and opulence, rewarding the First Class of the air and of life. Let's take a photo-tour of some of the most exclusive first-class lounges in the world.
Thai Airways Royal Orchid Spa inside Bangkok's BKK
A relaxing bubble bath between flights, or perhaps a full body massage? Among the more traditional Thai Airways lounges that feature private living rooms and a personal escort to your gate, the Royal Orchid Spa is certainly a standout with complimentary massage, steam rooms, and saunas.
Qantas First Lounge inside Sydney's SYD
This lounge features impressive panoramic garden views, a relaxing mobile-free library with books and chessboards, and a massage-room framed by over 8,000 plants.
Virgin Atlantic Clubhouse inside New York's JFK
This sleek haven exudes sex appeal with a playful and glamorous edge. From a spa to loungeable built-in wall cubbies, this lounge is as good as it looks.
Cathay Pacific's The Wing inside Hong Kong's HKG
This flagship lounge recently opened up a champagne bar to accompany it's enormously popular restaurant and bar. The lounge also has five private cabanas with day beds and bathtubs.
Lufthansa First Lounge inside Munich's MUC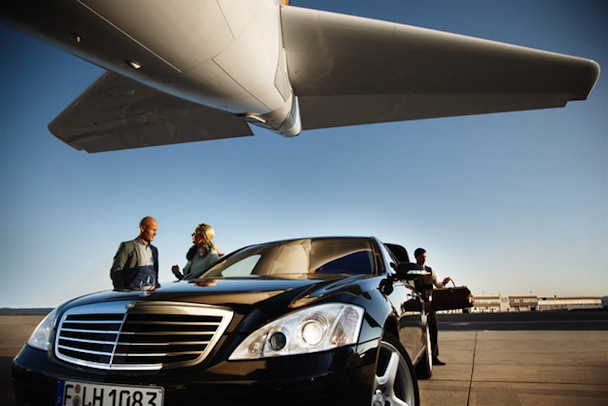 This traditional lounge hosts all of the amenities ranging from jacuzzi tubs to an impressive menu boasting gourmet pretzels. Oh, and there is also a private limo chauffeur that takes you right to your plane.
All of these featured Airline lounges are reserved for same-day First-class travellers, and sometimes top-tier status holders. In other words, these lounges are fairly exclusive, but who needs a jacuzzi tub anyway?
The real question remains, how does a normal person get into a comfortable airport lounge with a few added perks warm muffins and glass of wine?
Low Commitment Access
If the temptations of free Wi-Fi and mood lighting have become too much to bear, getting a day pass or wrangling a member to guest you in is the easiest way to get your fix.
Purchase a Day Pass
Most major North American airline clubs offer day passes. In addition, a trend in independently operated airport lounges have begun to take off.
European and Asian airline clubs generally do not allow day-pass entry and reserve their lounges mostly for First-class and Business flyers, as well as those with high status in their loyalty program.
Admirals Club
American Airlines was the first to start VIP lounges back in 1939 starting with LaGuardia Airport in New York. The Admirals club now has over 40 airport lounges worldwide that accept day-passes.
Amenities: Complimentary wine, beer, spirits, light snacks and Wi-Fi.
Known for: Impeccably kept lounges.
Cost: $50 per person, or $100 for a 30-day membership.
Best Lounge: Dallas, TX (DFW).
What it Boasts: 7 showers, business centre, music room, and exercise facilities.
United Club
This United Airlines club has over 45 locations worldwide.
Amenities: Complimentary beverages, light snacks, phone service, and Wi-Fi.
Cost: $50 per person.
Known For: Great staff and service.
Best Lounge: Houston, TX (IAH).
What it Boasts: Showers, conference room, family room, and fun bar staff.
US Airways Club
This US Airways club has over 20 American locations.
Amenities: Complimentary beverages, snacks, and Wi-Fi.
Cost: $50 per person (or $29 online), or $120 for 90-day membership.
Known For: A wide range of free eats.
Best Lounge: Philadelphia, PA (PHL).
What it Boasts: Large lounge with healthy snacks, conference room, comfy chairs and tons of plugs.
Independent Lounges
Recently, a new wave of independent VIP lounges have been popping up, and opening their doors to travelers willing to pay a flat rate. Some examples are the Airspace Lounge in BWI Airport, Oasis Lounge in JFK Airport, and the ReLAX Lounge in LAX Airports. Pricing ranges from $15-50 per person daily, or hourly rates starting at $10.
Servisair is an independent airport lounge company that has mostly a European presence, but also has a global reach to countries like Hong Kong and United Arab Emirates. Depending on your lounge and flight departure time, you are quoted a price (starting at $28 for a 3-hour stay). The amenities include the usual beverages, snacks and Wi-Fi.
Other airport lounge companies similar to Servisair include: Bidvest Premier Lounges (South Africa), NO.1 Lounges (UK), and Salones VIP Pacific (Chile).
Snag a Guest Pass
Most of the airline club memberships grant not only members free entry, but a guest (or two) entry as well.
Road-warriors are often flying solo, and are looking for someone to bide their time with. If you're not interested in loitering around lounge entrances and profiling the right members to leverage your potential for free entry, there are often posts made on travel blogs and forums by these travellers offering to bring in guests. Blind date anyone?
Flyertalk and Milepoint are two good forums that often have these types of posts made by club members or Business-class flyers. In addition, lounge guest passes and day-passes tend to pop-up on Kijiji and Craigslist at discounted prices.
High Commitment Access
Memberships
Buying a membership certainly requires more commitment since on average they cost about $500 every year. But if your office is in the sky and you haven't earned status with an airline, buying a membership could be a worthwhile investment.
Being a full-time club member grants you even more access than the day-pass since you can get into the airline's partnership lounges around the world. In this way, a membership is much more suitable to someone who travels outside of North America.
Admirals, United and US Airways Clubs
On top of the American lounges you can access with a day pass, with club membership you also get access to international airports but you generally have to fly with the same alliance (i.e. American Airlines = OneWorld, United = Star Alliance).
US Airways has the most reasonable annual fee at $450, while Admirals and United clubs are both at $500. If you travel often with your spouse, they have free entry, as well as children under 18 (21 for United and US). But if you and your spouse travel independently a lot, then a combined membership works out cheaper ($675 for US Airways, $750 for United and $825 for Admirals).
Qantas Club
The Qantas Club grants you entry into all Qantas Club lounges in Australia and around the world. You can also access the Emirates Business Lounge in Dubai when flying on either Qatar or Emirates, and visit the American Airlines Admiral Lounge at London Heathrow when flying on a Qantas or Emirates flight between Australia, Dubai, and London.
Annual Fee: $485 AUD (+$370 AUD Joining Fee)
Guest Policy: Free entry for 1 guest, or you can purchase an annual Qantas Club partner membership for $320 AUD
Priority Pass
This club is the largest independent airport lounge program in the world. The club grants members access to over 600 lounges worldwide, but they do not offer single day passes.
Annual fee: $99 USD (Standard Membership) with a visit fee of $27 per entry, or $249 USD (Standard Plus) with 10 free visits and then $27 per entry, or $399 USD (Prestige) with all visits free.
Guest Policy: Guest entry is $27.
Before purchasing an annual club membership, make sure that you will actually visit a club a minimum of 10 times to cover the day pass rate. There are also various credit cards that offer airport lounge passes as one of the perks, and even full-blown club memberships.
Credit Cards
Banks have partnered with various airlines to spawn a series of travel credit cards that offer complimentary lounge passes, and in some cases, memberships. Similar to the Day Pass vs. Annual Membership conundrum, these cards can be categorized by your level of commitment to both the air and bank fees.
Finding a credit card that includes some sort of lounge access is really like choosing from a First-class Singapore Air menu - the choices are abundant and subjective.
| Credit Card | Lounge Access | Annual Fee | Country |
| --- | --- | --- | --- |
| HSBC Platinum Qantas Visa | 2 Qantas Passes | $199 AUD | Australia |
| Emirates Citibank Platinum MasterCard | 1 Pass to Emirates Lounge | $229 AUD | Australia |
| ANZ Travel Visa Signature | 2 Passes to Changi Airport SATS Club | $200 SGD | Singapore |
| United MileagePlus Chase Visa | United Airlines Club Membership | $395 USD | USA |
| Citi Advantage World Elite MasterCard | Admiral Club Membership | $450 USD | USA |
| BMO Rewards World Elite MasterCard | Standard Priority Pass & 4 Free Visits | $150 CDN | Canada |
| AmEx Aeroplan Platinum Card | Maple Leaf Lounge Membership & Priority Pass | $499 CDN | Canada |
| American Express Platinum Card | Admirals Club Membership, Delta Sky Club, Priority Pass | $450* USD | Multiple |
*The American Express Platinum Card's annual fee is $699 CDN or $1200 AUD
The American Express Platinum card grants its members access to the most lounges and clubs, but it also comes with the steepest annual fee. In choosing the right card for you, pay attention to how often you are flying, where you are going, and who you are flying with.
Status - A Very Brief Note
Top-tier status with an airline or alliance can act as an all-access pass. Fancy a shoe shine?
Even if you are not flying in First, but you've earned airline status, you can be granted entry into the lounges and beyond. Each airline has its own hierarchy of status with different rewards and benefits. This topic needs it's own attention, so we won't go into it now.
Our New BFF - LoungeBuddy
We love the Loungebuddy App and who wouldn't? This friendly app invites you to "discover your airport oasis", and doesn't disappoint.
The app prompts you to create a profile with any status, lounge memberships, or credit cards that you may carry and takes it from there. The majestic wizard then directs you to all of the lounges available to you and highlights their amenities.
Want to know the best part? The app includes all of the lounges that accept day passes and displays the current rate of entry - how democratic! This means that the awkward loitering and the "should I or should I not" game is a thing of the past!
It takes out the guesswork, and allows you to make a beeline to the VIP lounge with confidence and poise.
Can We Just Be Friends?
The moral of the story is that many lounges are accessible to the everyday economy traveler, but before jumping into anything you should remember to take it slow. The idea of complimentary snacks and having an escape plan from the airport madness is attractive, but is sometimes not worth the cost.
Dishing out around $50 per lounge entry is steep, but so are the memberships and annual credit cards fees. So, try a day pass first or check to see if your existing credit card is partnered with an airline or lounge; you could be closer to a couple of free passes than you think. Let's recap with the best next steps you should take.
Test the water with a day pass
Pay per hour at independent lounges
Use flight forums to meet that special someone (or just a new friend)
Research airline club memberships to see lounge locations
If you fly often, consider an airline partnered credit card
Envy Befriend those with status
Flightfox is a new breed of corporate travel manager. We combine technology with human expertise to help your team travel better than ever for less.
Get Started!